Published: 28.09.2021
"If we are just another school, we are one school too many."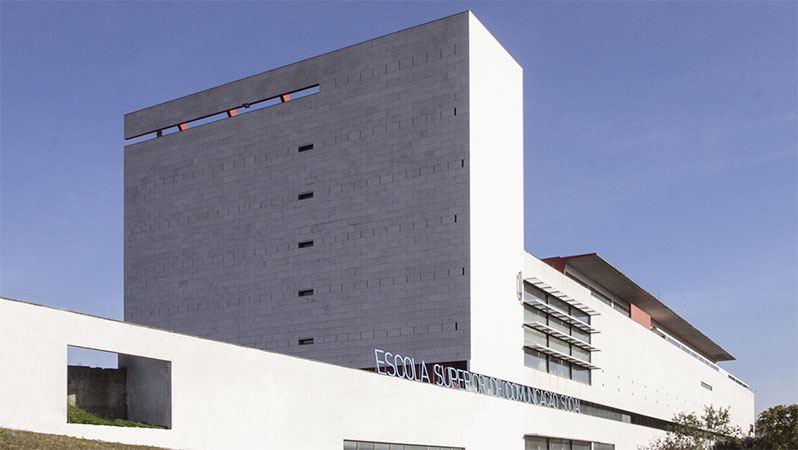 This is our motto towards society and Polytechnic Higher Education principles.
Portugal needs highly trained professionals with great critical capacities as well as extremely suitable skills to a demanding market.
Therefore, the scientific and pedagogical success of a Higher Education Institution has to live up to its capacity in order to interact with the market either in the entrepreneurial or other Higher Education sectors.
So, technologically unable, inflexible, unmotivated and non-participant teaching staff does not match with Escola Superior de Comunicação Social (ESCS) – Higher School of Communication and Media Studies – expectations and objectives for the future.
For more than a decade, ESCS has offered society a high quality institution, with a modern architectural conception for technical expertise, research and learning.
A general description
Lisbon Polytecnic Institute (Instituto Politécnico de Lisboa – IPL) is a public institution that was set up in 1985. It has the following objectives:
– to train students to a higher level of qualification in cultural, scientific, artistic, technical and professional subjects;
– to develop scientific and applied research;
– to render services to the community;
– to promote cultural, scientific and technical exchange with similar national and international institutions;
– to participate in national and international projects of cooperation.
Instituto Politécnico de Lisboa comprises eight schools in the field of Arts, Dance, Education, Communication and Media Studies, Accounting and Administration, Engineering and Health Sciences. It offers degree courses, as well as Post-Graduate courses and a range of other development programmes.
A general description of ESCS
ESCS is a branch of the Instituto Politécnico de Lisboa especially aimed at preparing communication experts, comprising four areas: AUDIOVISUAL AND MULTIMEDIA, JOURNALISM, ADVERTISING AND MARKETING and PUBLIC RELATIONS.
It was established by a decree-law in 1979. Having been firstly named as Journalism School, its designation evolved into ESCS in 1989. ESCS began its activity in 1987 by the appointment of a founding Committee. It was the first State School in Portugal providing degrees in scientific areas, such as Marketing and Advertising, Corporate Communication, Journalism, Audiovisual and Multimedia.
Our aim is to prepare future generations capable of intervening strategically in organisational environments through systematic and deliberate communication planning efforts "students must be able to carry out tasks and projects, knowing why they are doing them and how to do them", as well as to enrich the existing knowledge on communication subjects so as to become a reference in Portuguese and European settings.
Our goals are those characterizing the concept of Polytechnic Education Institutions: teaching and training, research and development and community involvement.
ESCS teaching practice is based on the convergence of both theoretical and practical experiences and different areas of knowledge in which activities are structured by a strong communicative and participative business culture.
ESCS strategy aims at promoting and developing post-graduation courses, master and doctoral degrees associated with other national and international Institutions.
To be an ESCS student means combining academic with personal and social development, taking part in international projects, attending conferences on a variety of scientific themes, sharing a healthy comradeship with peers and teachers, whilst at the same time enjoying high standards in terms of premises, infrastructures and equipment.