If we are just another school, we are one school too many.*
---
Mission and Organizational Values
ESCS's mission is to create and impart applied scientific knowledge, training highly qualified professionals at graduate and postgraduate levels in the areas of Audiovisual and Multimedia, Journalism, Advertising and Marketing, and Public Relations and Corporate Communication. The tools and ability with provide our students with enable them to go on to have a positive impact on organizations and society in a multicultural and globalized world.
The threefold purpose of our mission (research; teaching and learning; service and value to the community) translates into a vision of ESCS as a leading Communication School in Portugal. Both our stakeholders and the international community acknowledge the quality of our teaching, the excellence of the learning experience we provide, our academic rigor, the relevance of our research, the reputation of our graduates and lecturers, and their contribution to the building of a model of society based on humanistic principles, underpinned by knowledge, creativity and innovation.
ESCS's organizational culture is grounded in the following values, which should be communicated and shared by all the students, teachers and collaborators of the institution:
Rigor, Quality, and Continuous Improvement
Trust, Cooperation, and Collaboration
Social and Entrepreneurship Relevance
Diversity and Multiculturalism
Social Responsibility and Ethical Behaviour
---
Message from the Dean
At the School of Communication and Media Studies - ESCS, we are focused on our students and we work towards developing and shaping talents, listening to the perspectives of our partners and various communities.
We provide a learning and sharing environment where our students benefit from the knowledge and experience of the best professionals in each of the Communication fields.
ESCS is a leading school in Communication teaching and research in Portugal, to rival the best schools in Europe.
We were conceived and designed from scratch as a School of Communication, following a scientific matrix that emphasizes a marked balance between theory and practice, bringing together academic and business languages.
Our courses have a strong laboratory and experimentation component, using the most current technologies available on the market.
Prof. PHD André Sendin
Dean of the ESCS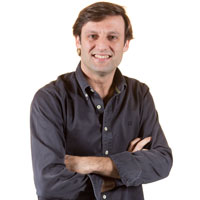 ---
* António Pinto Leite, Chairman of the ESCS Setting-up Committee, on the occasion of the inauguration of the School building.