Published: 02.08.2019
At the end of the academic year, incoming students talk about their Erasmus+ experience.
Every year, Erasmus+ program provides an international mobility experience to Higher Education' students. In the academic year 2018/2019, the School of Communication and Media Studies (ESCS) welcomed a total of 129 foreign students from several institutions with which has protocol. In order to improve the experience of incoming students, the School has also provided 15 subjects exclusively taught in English, a number that has been increasing from year to year.
See below what some students highlight from the Erasmus + experience, in ESCS.
---
Jacques Dias (Belgium)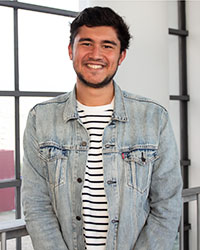 Jacques Dias is from Belgium, where he studies Audiovisual and Communication. When the student decided to apply for the Erasmus+ program, he chose Portugal and ESCS. Being able to get in touch with other areas of Communication, the "pleasant climate" of our country and the "calmer and more relaxed" way of working of Lisbon people, compared to Brussels, were his "biggest motivations".
During a semester, Jacques attended to subjects taught in Portuguese and English, from all the study areas of the School. "In Belgium, I have subjects in a big auditorium, with 500 people attending, and here the classes are small. So, it's a different way of approaching, which is very nice and easy to understand", he explains.
In the end, the young man underlines the "different mindset" with which he contacted in ESCS. "It was a new experience, very pleasant," he concludes, highlighting the "good relationship between teachers and students".
Sevilay Nur Saraçlar (Turkey)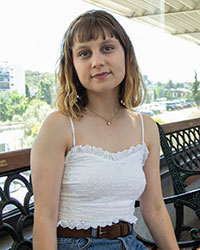 Sevilay Nur Saraçlar studies Journalism, in Turkey. She has chosen ESCS for her Erasmus+ experience because of the School's location. "Portugal is more similar to where I come from and I wanted to live near the sea," she says.
The student spent a full school year in Portugal. In the first semester, she attended journalism courses and, in the second, other areas, related to Public Relations and Advertising. Sevilay particularly highlights Communication, Information and Social Media Literacy and Perception and Image Theory, her favorite, as they are directly related to her field of study. The young woman was also responsible for the activities of the workshop "You are also Europe", inserted in the Europe Week initiative, dedicated to Erasmus+ outgoing students. "In Turkey, I am a human rights instructor. I'm a volunteer in an NGO, so I had a few games on my mind", she explains.
From School experience, Sevilay points out the fact that students can order and use audiovisual equipment and have the opportunity to work in classrooms equipped with Apple computers.